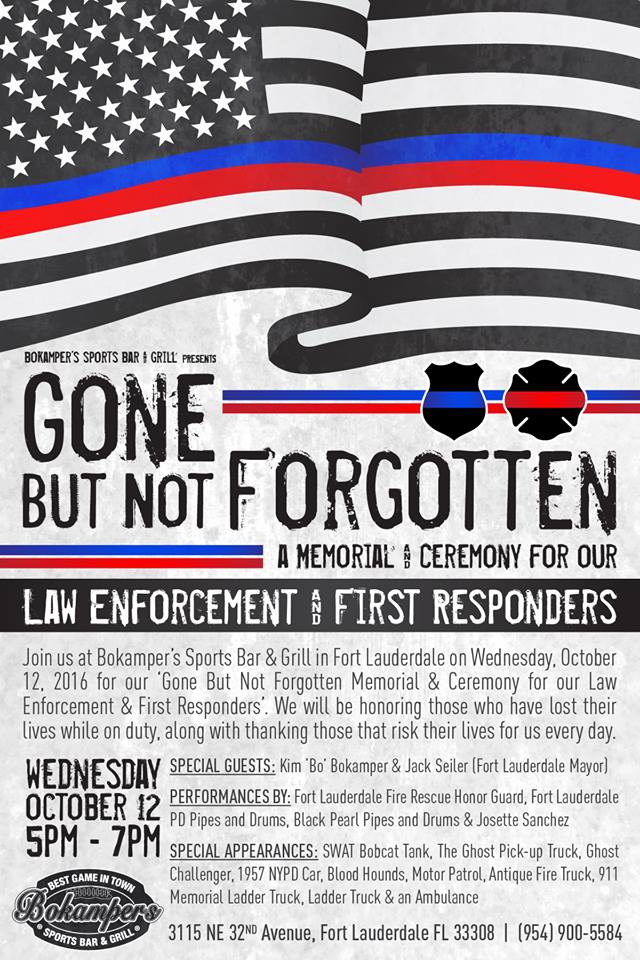 ---
---
We are pleased and honored to be invited by Bokamper's Sports Bar & Grill in Fort Lauderdale to attend their Memorial Ceremony in honor of those whose lives have been lost and will never be forgotten.
Their event will take place at their Bokamper's Sports Bar in Fort Lauderdale Florida from 5-7pm on October 12th, 2016.  In addition to a great event filled with various tributes, they are offering a 20% discount on any food purchased by any Police, Fire, or Military member (contact the business for further information or with any questions).  We are told this is their way of saying, "Thank you for all of the hard work, dedication and service you have given to our country."  As if they haven't done enough for Law Enforcement, Fire, or First Responders, they have decided to extend this discount to December 31, 2016!!
---
Bokamper's Sports Bar & Grill – 3212 NE 32nd Street, Fort Lauderdale, FL 33308 – 754-701-0564.
---