(Sold out)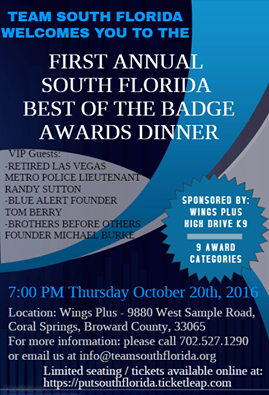 ---
Team South Florida is proud to host it's First Annual South Florida Best of the Badge Awards Dinner.  Nine award categories will be featured highlighting those in the Law Enforcement community who have gone above and beyond in the South Florida area (St. Lucie County to Miami Dade). This is an informal dinner and an excellent opportunity to showcase some of the great work that goes on year round in our local communities.
Special thank you to the Wings Plus Coral Springs Family for hosting this event and their continued support for our Team and the entire Law Enforcement community.  Special thank you to the High Drive K9 Team for being our main sponsor!!
We are real excited to announce Retired Las Vegas Metropolitan Police Department Lieutenant Randy Sutton will be joining us as our main guest speaker of the evening.  We are honored and appreciative for two additional VIP Guests and an incredible Host for the evening who will all be joining us.
Click here for ticket information
Lastly, we will also be having a 50/50 raffle at this event.  Funds raised will go towards our Team's required donation amount for the 2017 Police Unity Tour.  Both our Team and the Police Unity Tour are 501c3 Non-Profit organizations.  Raffle tickets can be obtained in person at the event or ahead of time online (by clicking here).
The suggested donation amount is $5.00 per ticket or $20.00 for five tickets.  Winners do not need to be present and will be selected at random during the drawing at the end of the Award Dinner.
In addition, The Florida Panthers were kind enough to donate two tickets to their First Responder Appreciation Night taking place on February 3rd.  One winner will receive half of the donations raised and one winner will receive two complimentary tickets to the Panthers game.  Please let us know if you have any questions.  Thank you in advance and feel free to share.